Luvassa on hauskoja ja laadukkaita tunteja niin LA salsassa, bachatassa kuin urban kizissäkin mahtavien kansainvälisten opettajiemme johdolla! Tsekkaa aikataulu alta ja osta lippusi Holvi-verkkokaupasta.
We promise you fun and quality workshops in LA salsa, bachata and urban kiz with our amazing international teachers! Check the schedule below and get your tickets in our webshop.
Aikataulut / Workshop and party schedule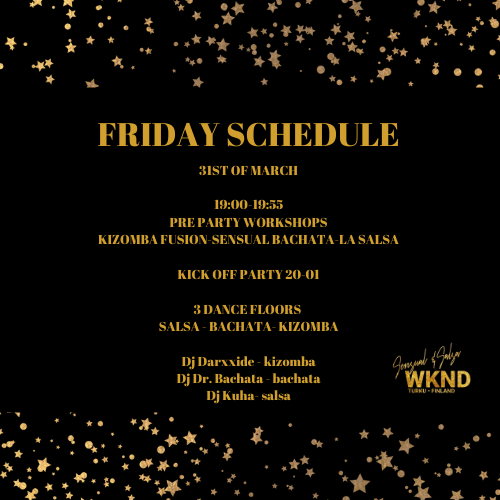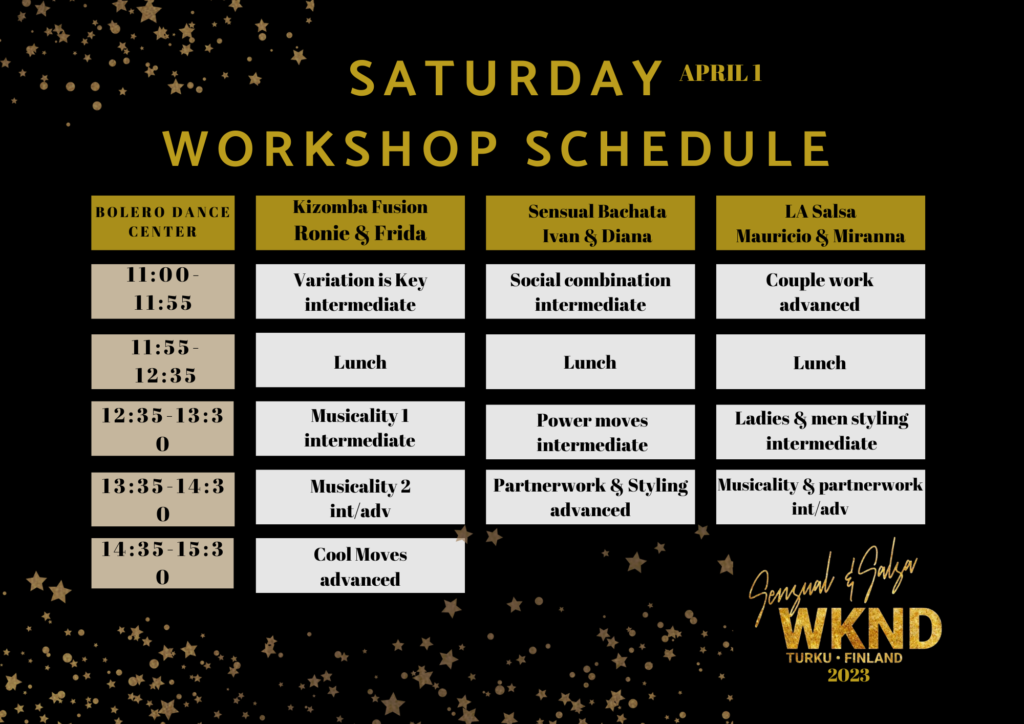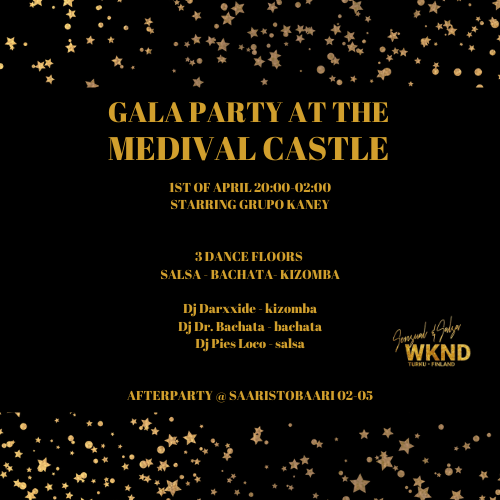 Lippuhinnasto / Ticket prices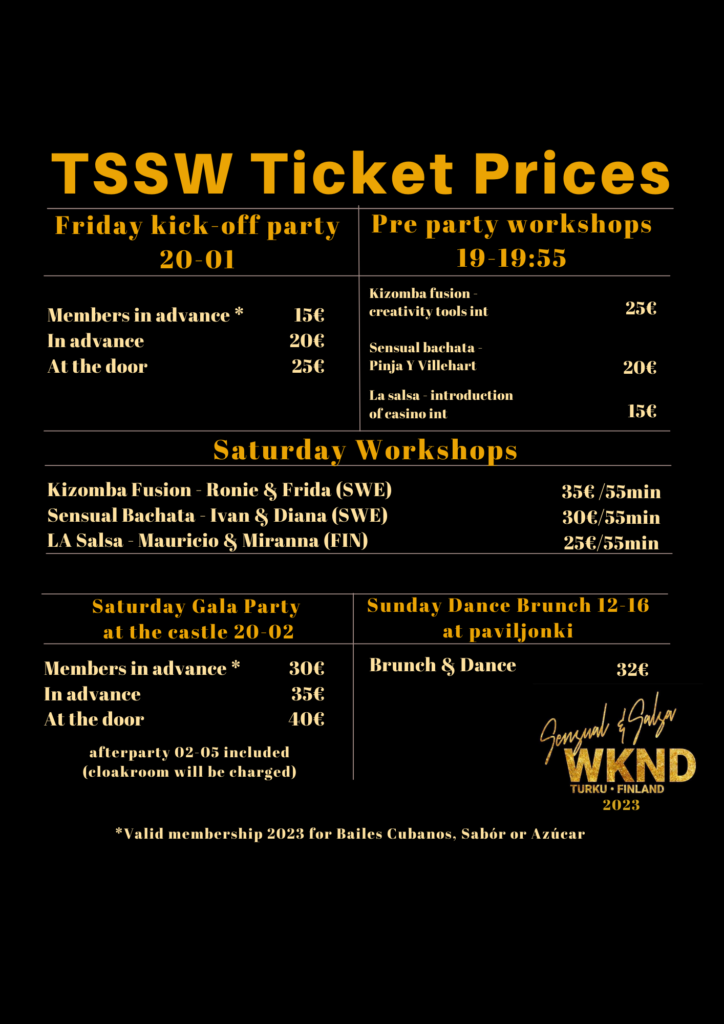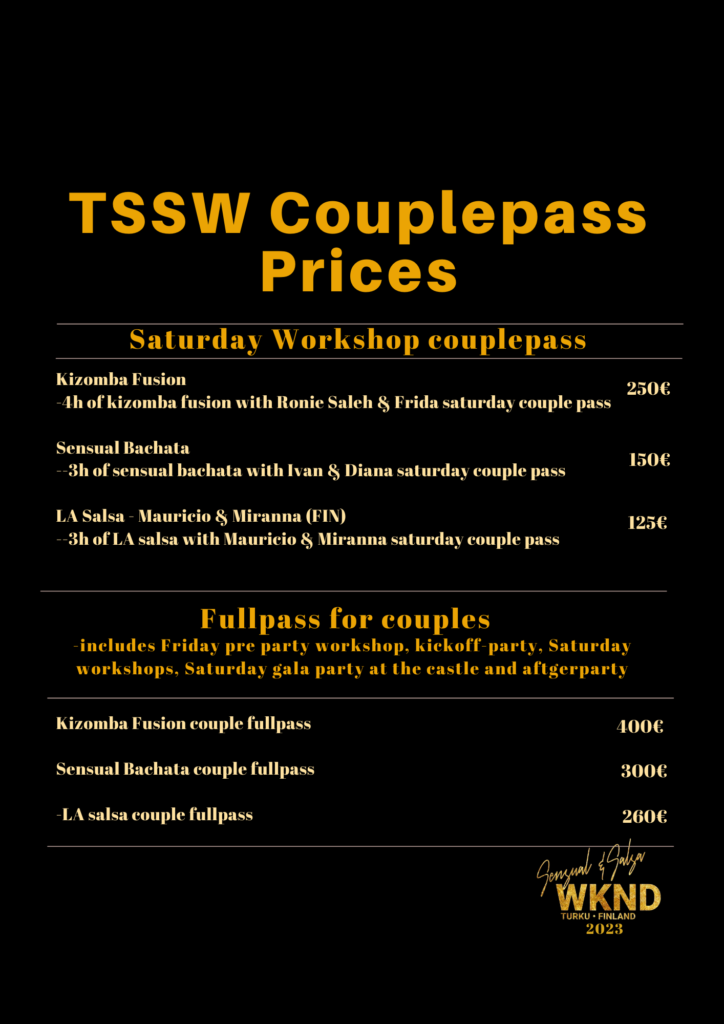 Ostetuilla lipuilla ei ole vaihto- ja palautusoikeutta, mutta lippuja voi myydä eteenpäin ja ilmoittaa TSSW:n sähköpostiin tku.salsaweekend@gmail.com tai TSSW:n messengeriin lipun saajan nimen. Jos tapahtuma joudutaan perumaan järjestäjän toimesta, lippujen hinta palautetaan lipun ostaneelle.
Unfortunately, tickets purchased are not eligible for exchange and refunds, but tickets can be resold. Then the name of the new owner has to be sent either by the email or messenger to TSSW, tku.salsaweekend@gmail.com. If the event is cancelled by the organisers, the tickets will be refunded.
Oikeudet muutokset pidätetään. All rights reserved.
Workshopit pidetään Tanssiseura Boleron tiloissa (Uhrilähteenkatu 2, 20250 Turku)
Tulethan ajoissa tunneille, osallistujat tarkistetaan ovella.
Boleron tiloista löytyy pukukopit sekä suihkut
Ulkokengillä ei voi tulla saliin, eli otathan tanssikengät mukaasi.
Rebelle Bakery tarjoaa paikanpäällä maistuvan lounaan ennakkotilauksesta (tsekkaa Holvi-verkkokauppamme). Bolerolta löytyy myös pieni keittiö jääkaappeineen omien eväiden säilyttämistä varten. Kadun toisella puolella on myös hyvin varusteltu ruokakauppa.
The workshops will be held at dance center Bolero (Uhrilähteenkatu 2, 20250 Turku):
Please come in time, the check in might take a while.
There are changing rooms and showers at the dance center.
Please wear inside dancing shoes, the floors are precious parquet!
Rebelle Bakery offers tasty lunch options at the site (requires pre-ordering, check the Holvi webshop) to keep you going the whole day! There is also a small kitchen and eating area, so you can take your own food and drinks with you.
A supermarket with many options is across the road.
Oikeudet muutoksiin pidätetään. All rights reserved.